Stanton Old Fashioned Days, Inc. is a 501(c)(3) non-profit organization, EIN 38-2728408, that relies on donations and sponsorship to cover the cost of the annual SOFD Festival. All contributions are tax-deductible.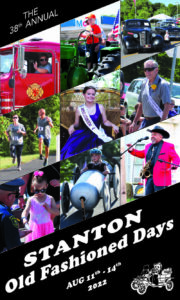 There are several acknowledgement options for various levels of sponsorship, including featured space in our annual booklet (see last year's for reference), on the stage backdrop during festival, and in our tractor calendar that is making a comeback this year.
We are so thankful for the generous sponsors in our community and surrounding areas that make Stanton Old Fashioned Days possible each year and want to make contributing as simple as possible for them. Therefore, we are happy to announce that we have made a convenient online form available in addition to our print form this year!
---
OTHER WAYS TO DONATE
For those interested in making a general contribution to SOFD, supporting the Miss Stanton Scholarship Fund, or sponsoring the Ultimate Air Dogs, donations may be sent to our mailing address or online through the Donorbox form in the footer of our website.