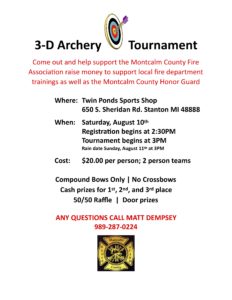 Unfortunately, our festival will not be held this year due to the current threat that COVID-19 poses to public health.
The SOFD Archery Contest is expected to return next year at Twin Ponds Sports Shop, 650 S Sheridan Road (M-66)
For this contest, archers will all have a chance to take their best shot at each of the 3D animal targets from aerial platforms set up along the outdoor course behind Twin Ponds. Each shot will be scored according to how close the arrow comes to the center of the vital area marked on each target. The better the shot, the higher the score. This is guaranteed to be a competitive, but fun event, in good company of fellow participants who also enjoy the sport of bow shooting.
Please check back next year for an updated registration form.
This event is hosted by the Montcalm County Fire Association.
Proceeds will benefit the MCFA for Firefighter Training.